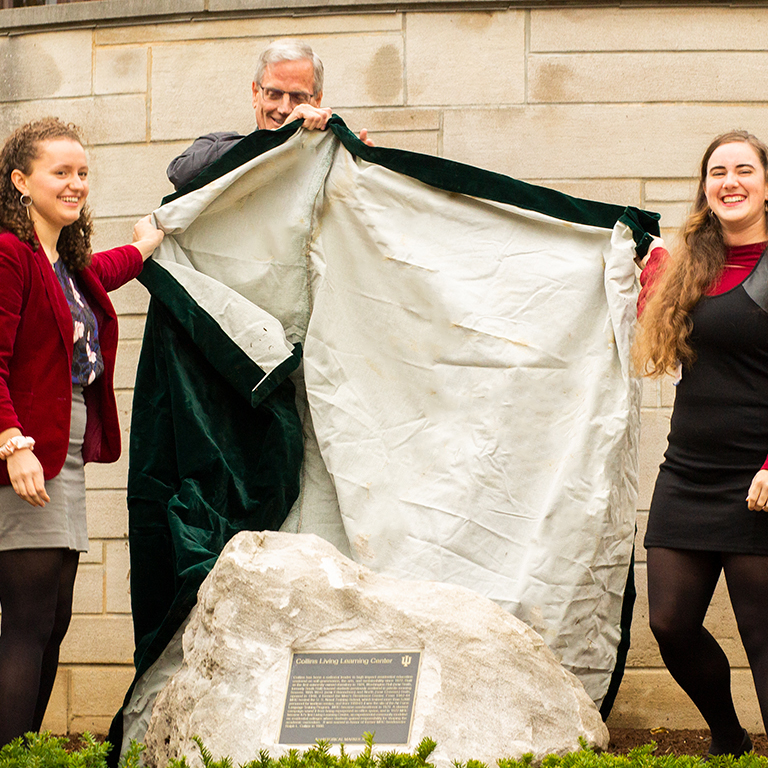 On Friday, October 25th, 2019, Collins celebrated the dedication of its brand new Bicentennial Historical Marker. The marker, which is affixed to a large boulder, is on display in front of the veranda in the Collins courtyard. The historical marker program is modeled after the State's program and serves to recognize significant people, places, events, and organizations that have made a major impact on the university, the state, the nation, and the world. The application for Collins' historical marker was put together by a group of students during the 2018-19 academic year, led by then student historian Nicole Strouts.

This year's student historian, Aaron Sizemore, picked up where Nicole and her team left off by helping to plan the celebration for the new marker and creating three Collins history boards to hang year-round in Edmondson Formal Lounge.

Friday also marked the raising of a brand new Collins flag, coordinated by Sizemore and designed by Collinsite Mike Randall. The flag features the center gnome from Collins' recognizable stained glass window near the Edmonson main entryway. Student groups were able to provide input on the flag and vote on its final approval.

The marker celebration included a reception to welcome friends of Collins from near and far, a dedication ceremony with an unveiling of the new marker, and an afterparty.

During the reception, Director Padraic Kenney announced the awarding of a Bicentennial Medal to Collins/MRC alumnus Tate Holt. The medals are made from materials salvaged from the old bells of the Student Building. The Bicentennial website notes that "the Bicentennial Medal honors distinguished and distinctive service, broadly defined, in support of Indiana University's mission as a public university, individuals who have enlarged the footprint of IU, or have helped to put IU on the map in unique ways." While at Collins/MRC, Tate led the charge for a student initiative to save the buildings that make up Collins today from becoming office space, which led to the space becoming a new home for the LLC program.

The dedication ceremony included remarks from Paul Gutjahr (Associate Dean for Arts and Humanities and Undergraduate Education), Sara Ivey Lucas (Interim Director for Residential Life at RPS and Collins LLC Alumna, IU '93), James Capshew (University Historian), Audrey Hood (current Collinsite), and Tate Holt (MRC-LLC Alumnus, IU '73). The marker was unveiled by Tate Holt, Audrey Hood, and Collins President Heather Ahmann.

Following the ceremony, Aaron Sizemore hosted an afterparty in the courtyard with gnome hat decorating, live music, a bonfire, marker etchings, and more. The celebration brought together students, staff, faculty, and alumni to share their love for a historical location that many have called home over the years.


 See photos from the event on our Facebook page